Description
GTX™ 325
Mode C Transponder
PART NUMBER
010-01083-01
Digital Mode C Transponder Solution
Modern, digital Mode C transponder perfect for aircraft that fly in airspace where ADS-B isn't required or on aircraft that is equipped with a UAT ADS-B solution
Offers useful timing and display functions such as timers, altitude monitoring, current pressure altitude readout and more
Easy replacement for existing transponders, with common 1.65" tall form factor
Optional Garmin altitude encoder simplifies installation, saves space and reduces potential service expenses should the transponder need to be removed
Connects to GTN™ series navigators for transponder code selection and control
Offering a simple, affordable replacement for standard Mode C transponder units in aircraft that don't fly in ADS-B mandated airspace — or that will be equipped with a separate UAT ADS-B transceiver solution — the GTX 325 transponder is a reliable, TSO-certified problem solver. Its solid-state design works to maximize service life and assure dependable ATC traffic surveillance.
A Smarter Way to Squawk
Featuring an easy-to-read LCD display designed for optimal viewing in all lighting conditions, GTX 325 offers a number of useful timing and display functions. Timers include trip time, flight time, count-up and count-down, while display functions include readouts for density and pressure altitude as well as static (outside) air temperature. In addition, the altitude monitor function displays the current deviation from the chosen altitude, as well as provides a "leaving altitude" alert when the deviation exceeds the preset limit. Dedicated push buttons numbered 0 through 9 make for quick and easy squawk code entry, while a dedicated VFR button pulls up the VFR code with a single keystroke. Compatibility with the GTN 750 and GTN 650 series of integrated GPS/Nav/Comm systems also enables transponder code selection and control from your navigator's touchscreen display.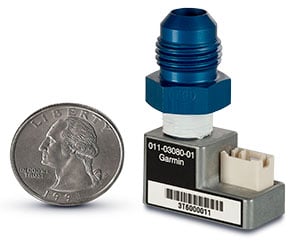 Altitude Encoding Made Simple
The GTX 325 transponder can also be paired with an optional Garmin altitude encoder to satisfy Mode C data transmission requirements for IFR. The external Garmin altitude encoder mounts separately on the install rack. So, if the transponder ever requires removal, there's no need for the static line to be disconnected. In turn, that eliminates the need for a follow-on leak check — and thus helps minimize ongoing service costs.
Keeps Your Stack Intact
No matter how your aircraft is currently equipped, our GTX 325 offers a simple, all-bases-covered transponder upgrade solution. The standard size and form factor of the 1.65" high unit assures a straightforward replacement for most existing stack-mount transponders — preventing extra avionics rework and installation downtime. See your authorized Garmin installation center for more details on the GTX 325 upgrade for your aircraft.
Wire Harness
Manufacturing
Sheet Metal
Manufacturing
Rebuild, Repair & Restore
You can trust the Skye Avionics Team to exceed your expectations.