Garmin Introduces GDL 50 and GDL 50R ADS-B Receivers
Joins the GDL 52/51 Lineup of Portable ADS-B/SiriusXM® Receivers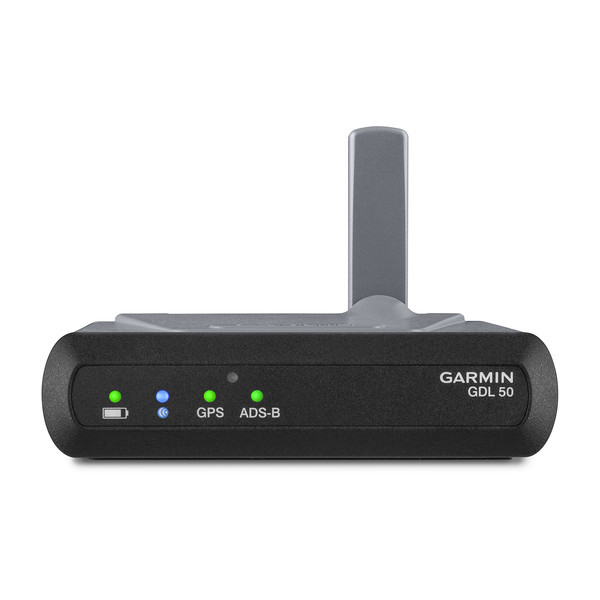 Garmin is pleased to announce GDL 50, a portable device capable of receiving Automatic Dependent Surveillance- Broadcast (ADS-B) traffic and weather, GPS and aircraft attitude1 information for display on select portables and mobile devices. A remote-mount version of GDL 50 — GDL 50R — is also available. Exclusive features such as TargetTrend™ and TerminalTraffic™ further enhance the ADS-B traffic picture and are unique to Garmin products. Wireless and hardwired compatibility of GDL 50/50R includes G3X Touch™ glass flight displays, aera® 660 and aera 795/796 aviation portables as well as wireless connectivity with the Garmin Pilot™ app on Apple® and Android™ mobile devices.
A successor to GDL 39 3D, the GDL 50 combines dual-link ADS-B traffic, a wide range of Flight Information Service-Broadcast (FIS-B) weather products, GPS and back-up aircraft attitude1 information that displays on compatible Connext® products via Bluetooth® wireless technology or hardwired connections. FIS-B weather products received by GDL 50 include NEXRAD imagery, METARs, TAFs, wind and temperatures aloft, PIREPs, NOTAMs and more. Additionally, pilots also have access to the most recent data as GDL 50 continually downloads traffic and weather information in the background — even while the display device is sleeping. In addition to comprehensive weather data, pilots utilizing GDL 50 can receive ADS-B traffic information and audible alerts to easily identify potential traffic conflicts while in-flight. Dual-link technology allows the GDL 50 to receive ADS-B "In" traffic on both 978 MHz and 1090 MHz frequencies, offering the most complete traffic picture and superior situational awareness. For aircraft that are properly equipped to meet ADS-B "Out" with a certified solution, the portable GDL 50 ADS-B "In" receiver provides an even better traffic picture by also receiving TIS-B traffic data from ground stations.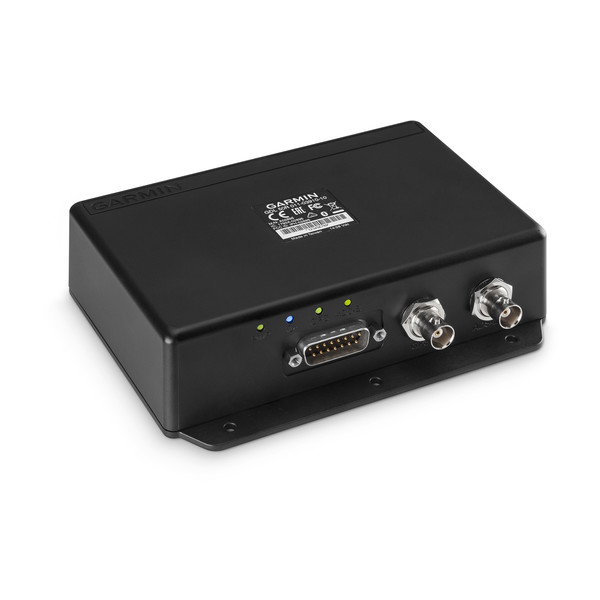 Exclusive to Garmin products, our patented TargetTrend™ technology provides pilots with a more intuitive method of judging target trajectories and closure rates, particularly in airspace with high volumes of traffic. So, pilots can more easily discern traffic targets that pose the greatest threat. TerminalTraffic™ technology displays a comprehensive picture of ADS-B-equipped aircraft and ground vehicles throughout the airport environment on the moving map and SafeTaxi® airport diagram. ADS-B traffic can be overlaid on the dedicated traffic page, the moving map and IFR/VFR charts on compatible devices.
Boasting superior battery life, a built-in rechargeable lithium-ion battery allows GDL 50 to receive ADS-B traffic, FIS-B weather, GPS and backup aircraft attitude information for up to 8 hours on a single charge. On applicable devices, back-up attitude1 information can be displayed within the SVX™ synthetic vision feature or the aircraft panel pages for use in VFR conditions. Capable of wirelessly streaming data to two devices and making hardwired connections to two additional devices simultaneously, GDL 50 offers quick and convenient access to essential information throughout the cockpit.
In addition to GDL 50/50R, both the GDL 52/52R and GDL 51/51R portable receivers are available and shipping. GDL 51/51R is a portable SiriusXM® receiver, while GDL 52/52R combines both SiriusXM and ADS-B receiver capabilities. The introduction of the new GDL 52 series completes the industry's most comprehensive line-up of portable ADS-B "In" and SiriusXM aviation receivers. With the introduction of GDL 50, Garmin will continue to offer GDL 39 (excludes attitude information), however GDL 39 3D (provides attitude information) is now discontinued.